Following this, Activity moved to the Arctic, escorting convoy JW 58 to Murmansk. Her aircraft—together with those from Tracker—were responsible for the sinking of U-boat U-288, and U-355, as well as damaging U-362, U-673 and U-990. The return convoy—RA 58—reached its destination without loss.
In May 1944, Activity spent some time at a shipyard on the Clyde for defect rectification before rejoining the Second Escort Group for escort duties. Activity escorted convoys OS 78, KMS 52, SL 158, MKS 49, OS 78, KMS 52, AL 159, MKS 50, SL 162, MK 53, KMF 33, MKF 33, OS 86, KMS 60, SL 167 and MKS 58.
In August 1944, Activity was designated as a ferry carrier. She transported aircraft, personnel and supplies to Trincomalee, Ceylon, arriving on 23 October 1944 and returning via Gibraltar, where she joined convoy MKF 36 back to the United Kingdom. Activity spent some time in a Clyde shipyard in December 1944 for defect rectification, after which she was reallocated to the East Indies Fleet and given a new pennant number, R301. She sailed with convoy KM 39 on 29 January 1945, arriving in Colombo on 20 February. Whilst en route to Sydney, Activity rescued the 92 survivors from SS Peter Silvester, an American liberty ship which had been sunk by U-862 on 6 February 1945, the last Allied ship sunk by enemy action in the Indian Ocean. Survivors from Peter Silvester were landed at Fremantle and Activity then continued her journey to Sydney.
Activity departed Sydney on 24 March, bound for Colombo for duty ferrying aircraft from Cochin to Colombo. After the end of the war, Activity was sent to Singapore to support the reoccupation of Singapore. She loaded ex-POWs and other passengers and sailed for Trincomalee on 15 September. Activity arrived home on the Clyde on 20 October 1945, and was then de-stored and placed in the Reserve Fleet. She was placed in the Category B Reserve on 30 January 1946, and sold to Glen Lines on 25 March 1946 for conversion to a merchant ship.
Activity was converted to a Glenearn class merchant ship by Palmers of Hebburn-on-Tyne, and renamed Breconshire, entering service with Glen Line in September 1947. She was the second Glen Line ship to be named Breconshire. She measured 9,061 gross register tons. She remained in service until April 1967, sailing from Kobe to Mihara for scrapping, arriving there on 24 April 1967.
HMS Activity sailed in convoys: JW58 + RA58 + RA59. Badge date: 1943
RCCNZ Member who served on this ship:
Len Burton, Palmerston North (deceased); John M Gilbert (deceased)

HMS Activity was an escort carrier that served with the Royal Navy of the United Kingdom during the Second World War. After the war, she was sold into merchant service as the MV Breconshire, serving for over 20 years until scrapped in 1967.
HMS Activity was built at Caledon shipyards in Dundee. When construction started in 1940 she was intended to become the refrigerated cargo ship Telemachus for the Alfred Holt Line. In February 1941, she was taken over by the Ministry of War Transport and renamed Empire Activity.
In January 1942, she was requisitioned by the Admiralty for conversion to an escort carrier, now named HMS Activity and carrying pennant number D94. Following her launch in May 1942 and completion in August of that year, Activity worked up at Lamlash before going to Rosyth for rectification of defects. Entering service on 1 January 1943, Activity operated as a deck landing training carrier until October 1943, when she was sent to Liverpool for a refit before entering active service.
After her refit, Activity took part in convoy escort duties in the North Atlantic. Activity embarked 819 Naval Air Squadron on 12 January 1944, and began escort duties on the 29 January as part of the Second Escort Group. Activity was involved in the escort of convoys OS 66, KMS 40, ON 222, NS 28, SL 147, MKS 38, HX 277, KMS 43 and MKF 29 in the period to March 1944.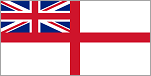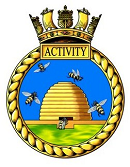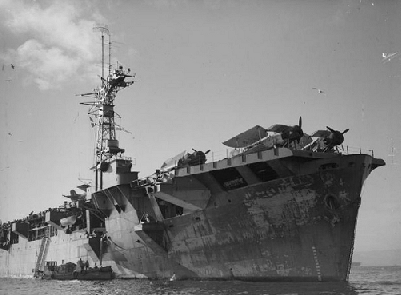 RCCNZ Member that served on this ship:
Kenneth Johnson, Tauranga (deceased)
HMS Anson was a King George V-class battleship of the Royal Navy, named after Admiral George Anson. She was built by Swan Hunter and Wigham Richardson Shipyard and launched on 24 February 1940, being completed on 22 June 1942. Her completion was delayed to allow the fitting of fire-control radar and additional anti-aircraft weapons. She was originally to have been named Jellicoe, but was renamed Anson in February 1940.
Anson saw service in the Second World War, escorting nine Russian convoys in the Arctic by December 1943. She took part in diversionary moves to draw attention away from Operation Husky in July 1943. In October the same year she took part in Operation Leader. In February 1944 she provided cover for Operation Tungsten, the successful air strike against the German battleship Tirpitz. She accepted the surrender of Japanese forces occupying Hong Kong on 15 August 1945 and after the end of the war she became the flagship of the 1st Battle Squadron of the British Pacific Fleet.
Anson arrived back in British waters on 29 July 1946, spending the next three years in active service with the post-war navy. She was finally placed in reserve and "mothballed" in 1949, spending eight years in this condition. On 17 December 1957 she was purchased for scrap by Shipbreaking Industries, Faslane.
In the aftermath of the First World War, the Washington Naval Treaty was drawn up in 1922 in an effort to stop an arms race developing between Britain, Japan, France, Italy and the United States. This treaty limited the number of ships each nation was allowed to build and capped the displacement of all capital ships at 35,000 long tons.
These restrictions were extended in 1930 through the London Naval Treaty, however, in 1935 Japan and Italy would not agree to the Second London Naval Treaty for further armament control. Concerned by a lack of modern battleships within their navy, the Admiralty ordered the construction of a new battleship class: the King George V class.
The calibre limitation clause introduced in the Second Treaty meant that the main armament of the King George V was limited to 14-inch (356 mm) and the unusual arrangement of the guns in the three turrets was an attempt to maximise firepower. Due to the pressing need for the ships, the British unlike the US could not delay to take advantage of an escalator clause that would allow 16-inch guns. The ships were the only ones to be built at the time to adhere to the treaty and even though it soon became apparent to the British that the other signatories to the treaty were ignoring its requirements, it was too late to change the design of the class before they were laid down in 1937.
The keel of the fourth ship of the class was laid at the Swan Hunter and Wigham Richardson Shipyard on 20 July 1937. She was originally to have been named Jellicoe, after Admiral Sir John Jellicoe, the commander of the Grand Fleet at the Battle of Jutland in 1916, but she was renamed Anson in February 1940. Anson was launched on 24 February 1940 and was completed on 22 June 1942. Completion was delayed largely because of the inclusion of fire-control radar, and additional anti-aircraft weapons.
Anson displaced 42,600 long tons (43,300 t) on trials in 1942 and 45,360 long tons (46,090 t) fully loaded in 1945. The ship had an overall length of 745 feet (227.1 m), a beam of 103 feet (31.4 m) and a draught of 31 feet 3 inches (9.5 m). Her designed metacentric height was 6 feet 1 inch (1.85 m) at normal load and 8 feet 1 inch (2.46 m) at deep load.
She was powered by Parsons geared steam turbines driving four propeller shafts. Steam was provided by eight Admiralty 3-drum water-tube boilers which normally delivered 100,000 shaft horsepower (75,000 kW), but could deliver 110,000 shp (82,000 kW) at emergency overload.[N 1] This gave Anson a top speed of 27.62 knots (51.15 km/h; 31.78 mph). The ship carried 4,210 long tons (4,300 t) of fuel oil. At full speed Anson had a range of 3,150 nautical miles (5,830 km; 3,620 mi) at 27 knots (50 km/h; 31 mph) while burning 36 long tons (37 t) of fuel per hour.
Anson's main armament was ten BL 14-inch (356 mm) Mk VII guns. The 14-inch guns were mounted in three turrets; one Mark III quadruple turret forward and one aft, and one Mark II twin turret forward firing over the quadruple turret. The guns could be elevated 40 degrees and depressed 3 degrees. A full gun broadside weighed 15,950 pounds (7.23 t), and a salvo could be fired every 40 seconds. Her secondary armament consisted of 16 QF 5.25-inch (133 mm) Mk I guns which were mounted in eight twin mounts. The maximum range of the Mk I guns was 24,070 yards (22,009.6 m) at a 45-degree elevation, the anti-aircraft ceiling was 49,000 feet (14,935.2 m). The guns could be elevated to 70 degrees and depressed to 5 degrees.[The normal rate of fire was ten to twelve rounds per minute, but in practice the guns could only fire seven to eight rounds per minute.[14] Along with her main and secondary batteries Anson carried six 8-barrelled QF 2-pounder Mk. VIII (40 mm) "pom-pom" anti-aircraft guns. These were supplemented by eighteen 20-millimetre (0.8 in) Oerlikon light AA guns.
After her commissioning in 1942, Anson was sent to the Arctic Sea with most of the Home Fleet as an escort ship for multiple Russian convoys. On 12 September 1942 Anson was part of the distant covering force for Convoy QP 14, along with her sister ship HMS Duke of York, the light cruiser HMS Jamaica and the destroyers HMS Keppel, Mackay, Montrose and Bramham. On 29 December Anson provided distant cover for Convoy JW 51B along with the cruiser HMS Cumberland and the destroyers HMS Forester, Icarus and Impulsive.
On 23 and 24 January 1943 Anson provided distant cover for Convoy JW 52 along with the cruiser HMS Sheffield and the destroyers HMS Echo, Eclipse, Faulknor, Inglefield, Montrose, Queenborough, Raider and the Polish destroyer Orkan.
On 29 January, Convoy RA 52 departed from the Kola inlet, with distant cover provided by Anson, the cruiser Sheffield and the destroyers Inglefield, Oribi, Obedient and the Polish destroyer Orkan from 30 January.
In June 1942, the pre-First World War battleship HMS Centurion was disguised as Anson in the Mediterranean Sea, acting as a decoy during Operation Vigorous.
In July 1943 Anson took part in the diversionary moves designed to draw attention away from the preparations for Operation Husky, and in October that year, with Duke of York and the US cruiser Tuscaloosa, provided cover for Operation Leader, in which the US aircraft carrier Ranger mounted air strikes against German shipping off Norway. In February 1944, in company with the French battleship Richelieu and a force of cruisers and destroyers, Anson stood by in the same capacity while aircraft from the aircraft carrier HMS Furious carried out air strikes against German targets in Norway during Operation Bayleaf, and on 3 April she provided cover for Operation Tungsten, a successful air strike against the German battleship Tirpitz, during which she served as flagship for Vice Admiral Sir Henry Moore.
Anson was decommissioned for a refit in June 1944 and did not return to the fleet until March 1945, when she sailed with Duke of York to join the British Pacific Fleet. By the time she arrived in the theatre, hostilities were all but over. She left Sydney on 15 August for Hong Kong with Duke of York, and along with a task force of other ships from Britain and the Commonwealth, accepted the surrender of the Japanese forces occupying Hong Kong. She was also present in Tokyo Bay during the official Japanese surrender aboard the USS Missouri.
Following the war Anson was the flagship of the 1st Battle Squadron of the British Pacific Fleet and helped to liberate Hong Kong. After a brief refit, Anson sailed from Sydney to Hobart in February 1946 to collect the Duke and Duchess of Gloucester (the Duke was then Governor-General of Australia) and return them to Sydney.
Anson arrived back in British waters on 29 July 1946 and after a short refit was returned to peacetime duties. In November 1949, Anson was placed in reserve and in 1951 she was towed to Gare Loch.[24] On 17 December 1957 she was purchased for scrap by Shipbreaking Industries, Faslane
Details of HMS Anson are available at the ship's website: www.hmsanson.co.uk
HMS Anson sailed in convoys: PQ18 + QP14 + JW51B + JW52 + JW54A + JW54B + RA52 + RA54A + RA54B. Motto: "Nil Desperandum" "Never Despair". Badge date: 1937.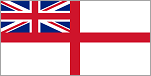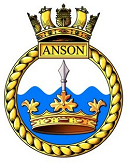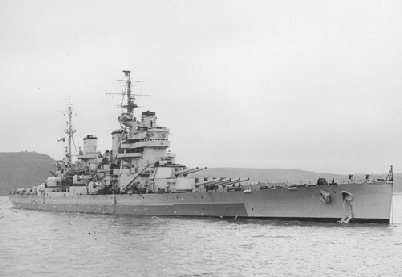 RCCNZ Member that served on this ship:
Stan Welch, Paraparaumu
HMS Apollo (M01/N01) was an Abdiel-class mine layer of the British Royal Navy, the eighth Royal Navy ship to carry the name. She served with the Home Fleet during World War II, taking part in the Normandy Landings before being transferred to the British Pacific Fleet. Put into reserve in 1946, she was recommissioned in 1951, serving until 1961, and was sold for scrapping in 1962.

Ordered: 1940. Builder: Hawthorn Leslie, Hebburn. Laid down: 10 October 1941. Launched: 5 April 1943. Completed: 12 February 1944. Commissioned: 1944. Decommissioned: 1946. Recommissioned: 1951. Decommissioned: 1961. Fate: Sold for scrapping 1962. Class and type: Abdiel-class minelayer. Displacement: 2,650 long tons (2,693 t) standard. 4,000 long tons (4,064 t) full load. Length: 418 ft (127 m). Beam: 40 ft (12 m). Draught: 16 ft (4.9 m).
Propulsion: 4 × Admiralty 3-drum boilers. Geared turbines 2 shafts 72,000 shp (53,690 kW). Speed: 40 knots (74 km/h; 46 mph). Range: 1,000 nmi (1,900 km) at 38 kn (70 km/h; 44 mph). Complement: 242. Armament: 4 × 4 in (100 mm) AA guns (2×2), 4 × Bofors 40 mm guns (2×2), 12 × Oerlikon 20 mm cannons (6×2), 160 × Naval mines.







In 1944, HMS Apollo was commissioned after sea trials in February 1944. Apollo joined the Home Fleet at Scapa Flow before setting out for Plymouth for mine laying operations in support of the planned invasion of France. Loading mines at Milford Haven she commenced a series of operations off the French coast of Brittany between Ushant and Île Vierge.
She was detached for duty in "Operation Neptune" and on 7 June 1944 (D-Day+1) she embarked Allied Supreme Commander General Dwight D. Eisenhower, Naval Commander in Chief Admiral Bertram Ramsay, and staff officers from SHAEF, to visit the assault areas. Unfortunately the minelayer grounded while underway, damaging her propellers, and her passengers were transferred to the destroyer Undaunted.

Apollo took passage to Sheerness and then to the Tyne for repairs, which were completed in September. The ship was then transferred to Western Approaches Command, and deployed in the South-Western Approaches laying deep trap minefields as a countermeasure to U-boat activities in inshore waters. With minelayer HMS Plover she laid more than 1,200 Mk XVII moored mines across the coastal convoy route along the north coast of Cornwall. She started on 29 November 1944 with minefield "HW A1" (this minefield was later fatal to the submarine U-325). On 3 December 1944 she laid minefield "HW A3" east of "HW A1". (This minefield was later fatal to the submarine U-1021).


On 24 December she was transferred to the Home Fleet for mine laying duty off Norway, operating off Utsira during January, accompanied by the destroyers Zealous and Carron. On 15 January 1945 she returned to the Western Approaches for mine laying in the Irish Sea. On 13 April Apollo rejoined the Home Fleet for a mine laying operations in the Russian Kola Inlet ("Operation Trammel") as part of "Force 5" with destroyers Opportune, Orwell and Obedient, rejoining the Home Fleet in May.
After the end of the war in Europe, Apollo sailed to Oslo in company with sister ship Ariadne and heavy cruiser Devonshire, returning the Norwegian Government-in-Exile and Crown Prince Olav. On her return Apollo prepared for service with the British Pacific Fleet, departing from Portsmouth at the end of June. After exercises with the Mediterranean Fleet at Malta in July, she finally arrived at Melbourne on 1 August, by which time her services were no longer required, as the Japanese surrendered on the 15 August. Post-war Apollo was then employed in repatriation work carrying former British prisoners of war to Shanghai for passage back to the United Kingdom. She also carried mail and stores to ships and establishments in the Pacific, including the British Fleet Base at Manus, Shanghai, various Japanese ports and Hong Kong. In mid-1946 Apollo returned to Chatham and was paid off into Reserve. In 1948 her pennant number was changed from M01 to N01.



Apollo was recommissioned in 1951 after the outbreak of the Korean War. Following a refit she joined the Home Fleet and remained in commission for the next ten years. She was paid off and returned to the Reserve HMS Apollo sailed in convoys: As a mine layer, HMS Apollo preceded Convoy JW66 to lay mines off Kola Inlet. in 1961, was put on the Disposal List the next year, and sold for breaking-up by Hughes Bolckow at Blyth Northumberland where she arrived in November 1962.
Motto: "Fortis et Benignus" "Strong and Merciful".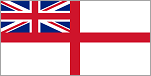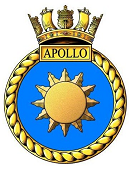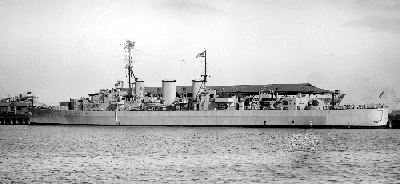 RCCNZ Members that served on this ship:
Frank Jones, Lower Hutt (deceased); David Boyes, Tairoa (deceased)

HMS Belfast, is one of the two ships forming the final sub-class of the Royal Navy's Town-class cruisers, the other being HMS Edinburgh. Belfast is now a museum ship in London. The Town class cruisers were constrained to less than 10,000 tons by the Washington Naval Treaty. The original design included quadruple 6-inch gun mountings, but, due to problems with construction, improved versions of the triple mountings fitted to the earlier ships of the class were fitted instead. These were lighter than those planned, and the weight saved was used to improve the ship's armour and anti-aircraft defences.
Belfast was launched on St Patrick's Day in 1938 at Harland and Wolff Shipyard in Belfast by Anne de Vere Cole, the wife of the then prime minister, Neville Chamberlain.



At that time, the budgeted overall cost of the ship was £2,141,514, of which £75,000 was for the guns and £66,500 for aircraft. She was commissioned in August 1939 under the command of Captain G A Scott DSO and assigned to the 18th Cruiser Squadron.



At the start of the Second World War the 18th Cruiser Squadron was part of the British effort to impose a naval blockade on Germany. As part of this squadron, Belfast intercepted the German liner Cap Norte on 9 October 1939 as the liner was trying to return to Germany disguised as a neutral ship. At around 1:00 a.m. on 21 November 1939 she was seriously damaged as she left the Firth of Forth, with twenty-one men injured, by a magnetic mine laid on 4 November by the German submarine U-21 under the command of Kapitänleutnant Fritz Frauenheim.
The mine broke the keel and wrecked the hull and machinery to such an extent that repairs at Devonport took nearly three years. She returned to service in the Home Fleet in November 1942 under the command of Captain Frederick Parham. Improvements had been made to the ship during repairs, notably bulged amidships to improve her stability and fitting the latest radar and fire control; her displacement had risen from 11,175 to 11,553 tons, making her Britain's heaviest cruiser.




She was made flagship of the 10th Cruiser Squadron, under Rear-Admiral Robert Burnett, in which capacity she provided cover for Arctic convoys to the Soviet Union. On 26 December 1943, in what became the Battle of North Cape, the cruiser squadron, consisting of Norfolk, Belfast and Sheffield, encountered the German Gneisenau class battle cruiser Scharnhorst, and with the battleship HMS Duke of York subsequently sank her. Belfast was part of the escort force in Operation Tungsten in March 1944, a large carrier-launched air-strike against the Tirpitz, at that stage the last surviving German heavy warship, moored at Altenfjord in northern Norway. Tirpitz was hit by fifteen bombs and severely damaged, but not destroyed. In June 1944 she took part in the bombardment of enemy positions at the beginning of Operation Neptune, the landing phase of the D-Day landings, as flagship of bombardment Force E. Part of the Eastern Naval Task Force, with responsibility for supporting the British and Canadian assaults on Gold and Juno beaches, Belfast was one of the first ships to fire on German positions at 5:30 a.m. on 6 June 1944,
Between 1959-62 the ship operated in the Far East on exercises and "showed the flag". In December 1961 she provided the British guard of honour at Dar-es-Salaam during the Tanganyika independence ceremony.

The ship left Singapore on 26 March 1962 for the UK where she made a final visit to Belfast and after an exercise in Mediterranean was paid off on 24 August 1963. Following a campaign led by Rear-Admiral Sir Morgan Morgan-Giles DSO OBE CM, a former captain of the ship, she was brought to London to become a museum ship and was first opened to the public on Trafalgar Day, 21 October 1971. A documentary of this ship was featured on The History Channel's Heavy Metal in 2003.



HMS Belfast sailed in convoys: JW53 + JW54b + JW55a + JW55b + RA53 + RA54a + RA54b + RA55a. Motto: "Pro Tanto Quid Retribuamus" "We Give As Good As We Get". Badge date: 1937.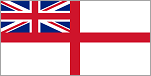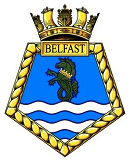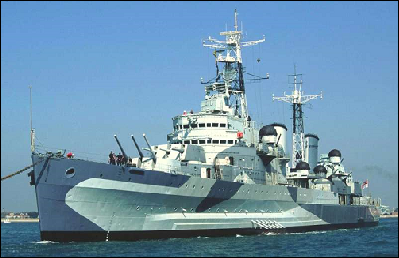 RCCNZ Members that served on this ship:
Alan McLauchlan (deceased); Arch Jelley, OBE CNZM, Auckland; Dugald McKenzie, Blenheim (deceased); Maurice Newman OBE DSC (deceased); and Louis McCleary (deceased)
HMS Bermuda (C52) was a Crown Colony class cruiser of the British Royal Navy during the mid-20th century. She was named for the British territory of Bermuda, and was the eighth vessel to be so. The first was a Bermuda sloop, purchased in 1795. The 555 foot long Bermuda was built by the John Brown Shipbuilders on the River Clyde and launched on September 11, 1941. In the same year, the class ship, 'Fiji', was sunk while participating in the evacuation of Crete, and the Bermuda would be the final ship of the class.



Through 1942, the Bermuda would participate in the North Africa campaign, including Operation Torch. The following year she would serve in both the Atlantic and Arctic. In 1945, the Bermuda was deployed to the Pacific. Following the war, the Bermuda continued her service. In 1953, she assisted the Greek island of Zakynthos when it was struck by a severe earthquake. Greek officials would later comment, "we Greeks have a long-standing tradition with the Royal Navy and it lived up to every expectation in its infallible tradition of always being the first to help". The Bermuda was decommissioned in 1962, after only 21 years in service.





The Bermuda made several visits to her namesake, where she was presented with a number of silver objects, including a large bell - which was occasionally used as a font for Holy Water in the baptism of children of the crew - and four bugles. Two of the bugles later found their way into The Bermuda Regiment. Apart from the bell and the bugles, which were collected together by the Bermuda Maritime Museum at the former Bermuda Dockyard, the other items went missing following the ship's decommissioning.
HMS Bermuda sailed in convoys: JW52 + JW54a + JW54b + JW56a + JW56b + RA51 + RA52 + RA54b + RA56. Motto: "Coeur de Lion" " Lionheart". Badge date: 1942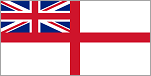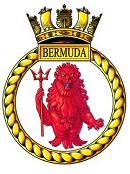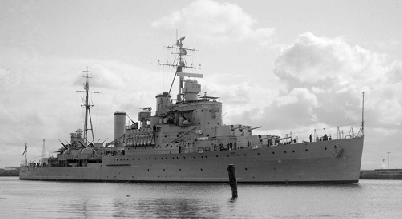 RCCNZ Members that served on this ship:
Derek Whitwam, Lower Hutt; Dennis Whitehead (deceased), Napier
HMS Berwick, a Royal Navy Kent class - one of the subclasses of the County class heavy cruiser - was built by Fairfield & Company, Govan, Glasgow with the keel laid down on 15 September 1924. She was launched on 30 March 1926 and completed on 15 February 1928.

At the outbreak of the Second World War HMS Berwick was flagship 8th Cruiser Squadron, America and West Indies Station. She departed Bermuda on 7 November 1939 and arrived at Portsmouth on 14 November to join the 1st Cruiser Squadron, Home Fleet, during January 1940. On 2 March, the German merchant ship Wolfsburg was intercepted off Iceland by HMS Berwick. The Wolfsburg scuttled herself and Berwick had to sink the wreck.
On 6 March 1940, Berwick intercepted the Uruguay off Iceland which also scuttled and was sunk by Berwick's gunfire. Then, during April 1940, Berwick took part in the operations connected with the Norway Campaign. When it was decided to send British forces to Iceland, a Royal Marine battalion was embarked on 7 May 1940 at Greenock in Berwick and Glasgow, and was landed at Reykjavik on the morning of 10 May 1940 (Operation "Fork").
After other minor operations with the Home Fleet, HMS Berwick left the Clyde on 1 November 1940 for the Mediterranean arriving at Malta on 10 November where she disembarked troops from England. On the way she took part in Operation "Crack", a Fleet Air Arm attack on Cagliari. On 11 November 1940, Berwick escorted the carrier Illustrious in the successful raid against the Italian battle fleet in Taranto Harbour. Later, she also escorted convoys between Egypt and Greece.
On 27 November she took part in the action between the Mediterranean and Italian fleets off Spartivento, Sardinia during which she received two direct hits from 8-inch guns (the first with seven dead and nine wounded, and the second which exploded in the Officer's quarters) and was out of action for about three weeks while undergoing temporary repairs in Gibraltar.
On 21 December 1940, Berwick departed Gibraltar to meet and escort Convoy WS5A towards the Cape. This was the convoy that was attacked on the morning of Christmas Day by the heavy cruiser Admiral Hipper. The convoy scattered and only one transport, the Empire Trooper, was damaged and took refuge in the Azores. During action with the Admiral Hipper, HMS Berwick received four hits, one putting an 8-inch turret gun and one 4-inch anti-aircraft gun out of action. The Berwick was detached from the convoy and returned to Gibraltar on 31 December 1940. repairs were carried out at Portsmouth and Rosyth until the end of July 1941, at which point she rejoined the Home Fleet. Further repairs were necessary in the autumn.
Crew on HMS Berwick en-route to Russia
This operation was delayed twenty four hours owing to unsuitable weather. Two merchant vessels were destroyed, one tanker hit, one ship and one escort vessel damaged. Another successful Home Fleet operation "Lombard" and air strike in the Aalesund area took place on 1 June 1944.

Between 22 and 29 August 1944 the Berwick again assisted as covering force for Operation "Goodwood", an air carrier operation against the Tirpitz which coincided with the passage of the Russian convoy JW59. For the voyage of the Prime Minister and his staff from the Clyde to Halifax, Nova Scotia, for the Allied Conference at Quebec, the cruiser Kent left Scapa on 4 September 1944 to provide fast cover for the passage of RMS Queen Mary (Operation "Octagon"). The Kent escorted her as far as the Azores, when the Berwick, having refuelled there, continued the escort to Halifax.



From 1 November 1944, HMS Berwick participated in Convoy JW61A. Two liners Scythia and Empress of Australia sailed from Liverpool on 31 October 1944 carrying 10,213 Soviet nationals - 10,139 men, 30 women and 44 boys. Meantime, Berwick was in Rosyth welcoming on board a contingent of Norwegian soldiers who were to assist in the liberation of Norway. They were farewelled by HRH Crown Prince Olaf. The escort which consisted of HMS Berwick, the aircraft carrier HMS Campania and Fleet destroyers HMS Cambrian, HMS Caprice, HMS Cassandra, HMS Saumarez, HMS Savage, HMS Scorpion, HMS Scourge, HMS Serapis, HMS Beagle, HMS Cygnet, HMS Westcott and HMS Nene made rendezvous with the liners on 2 November 1944 and reached Kola Inlet on 6 November 1944 (the latter four being local escorts around coastal Britain, but not proceeding to the fast convoy). The Norwegian troops disembarked with the good wishes of HMS Berwick's crew. After all, due to some indisposition they had sacrificed their rum rations on several occasions - it wasn't wasted!!! The convoy returned as Convoy RA61A leaving Kola Inlet on 11 November 1944, arriving in the Clyde on 17 November 1944. Convoy RA61A consisted of HMS Berwick, the aircraft carrier HMS Campania and Fleet destroyers HMS Cambrian, HMS Caprice, HMS Cassandra, HMS Saumarez, HMS Savage, HMS Scorpion, HMS Scourge and HMS Serapis.

On the night of 28-29 January 1945 another operation against enemy shipping off the Norwegian coast was conducted with success. Immediately after the armistice in Europe, Berwick was among the ships departed Scapa Flow (on 16 May 1945) and went to Trondheim to encourage the local population. In order to avoid unnecessary depletion of stocks, she left Trondheim on 24 May for Rosyth. The immediate post-armistice period brought heavy demands for trooping, and on 29 May 1945 Berwick, with Norfolk, took troops to Bergen and Trondheim. On 12 June 1945, Berwick left Greenock with the destroyer Zebra with stores and relief for the garrison in Iceland, arriving at Advent Fiord on 16 May. She then proceeded to Reyjavik to embark special stores, leaving on 22 June and arriving at Portsmouth on 27 June 1945. She continued these trooping duties for several months after hostilities ended. After the war she was allocated to BISCO for scrapping on 15 June 1948 and arrived at Hughes Bolkow, Blyth, on 12 July 1948 for breaking up.
Crew of HMS Berwick in Halifax, Nova Scotia, after escorting RMS Queen Mary with Winston Churchill on board to the Quebec Conference code named "Operation Octagon "
Battle honours: Atlantic (1939); Norway (1940); Spartivento (1940); Arctic (1941-1944). HMS Berwick sailed in convoys: PQ4 + PQ12 + JW51a + JW53 + JW56a + JW56b + JW57 + JW61a + RA56 + RA61a. Motto: "Victoria Gloria Merces" " Victory and Glory are the Reward". Badge date: 1924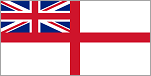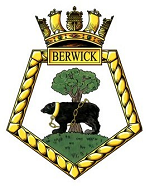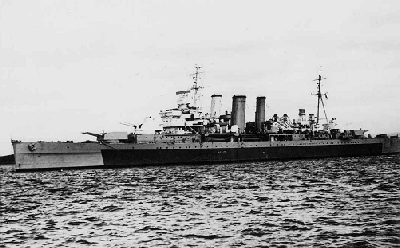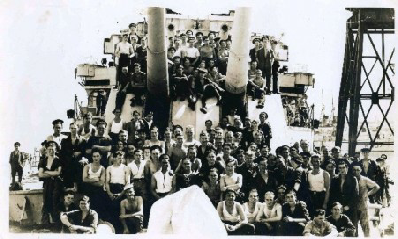 RCCNZ Member that served on this ship:
George Gosling (deceased); Murray R Kerr (deceased)
Donald Matheson
HMS Black Prince was a Dido-class light cruiser of the Royal Navy, of the Bellona subgroup. The cruiser was commissioned in 1943, and served during World War II on the Arctic convoys, during the Normandy landings, and as part of the British Pacific Fleet. In 1946, the cruiser was loaned to the Royal New Zealand Navy, becoming HMNZS Black Prince.
The cruiser was docked for modernisation in 1947, but in April, her sailors walked off the ship as part of a series of mutinies in the RNZN. The shortage of manpower resulting from these mutinies meant that the modernisation had to be cancelled, and Black Prince was placed in reserve until 1953. She returned to service after refitting and standardisation of the secondary armament with 40mm twin and single guns. The ship was decommissioned again two years later, and she was returned to the Royal Navy in 1961. Black Prince did not re-enter service, and was towed from Auckland to the Osaka breakage yards for scrapping in 1962
She was a modified Dido design, sometimes called Dido Group 2, or the Bellona subgroup with only four 5.25-inch mounts instead of five, and improved anti-aircraft armament. She was built by Harland & Wolff of Belfast, Northern Ireland, with her keel being laid down on 1 December 1939. She was launched on 27 August 1942, and commissioned on 30 November 1943.
Black Prince was named after Prince Edward (1330-1376), the eldest son of King Edward III. After commissioning, Black Prince served on Arctic convoys and then came south in preparation for the invasion of Europe, being employed on offensive sweeps against German coastal convoy traffic. On the night of 25 and 26 April 1944, accompanied by Canadian destroyers, she was involved in the action which sank the torpedo boat T29 and damaged T24 and T27 off the north Brittany coast.
During the Normandy landings, she was part of Force "A" of Task Force 125 in support of Utah Beach. Task Force 125 at this time consisted of the battleship USS Nevada, the cruisers USS Quincy, USS Tuscaloosa, Black Prince, the monitor HMS Erebus and several destroyers and destroyer escorts. Black Prince's target was the battery at Morsalines. In August, she moved to the Mediterranean for the invasion of Southern France. She was then sent to Aegean waters in September 1944. On 8 September, Black Prince arrived in Alexandria, Egypt, where she was ordered to sweep the area around Scarpanto and the Gulf of Salonica. On one occasion she bombarded the airfield at Maleme on the island of Crete to prevent German aircraft from taking off.
On 21 November 1944, Black Prince left Alexandria, passed through the Suez Canal into the Red Sea and then on into the Indian Ocean. She arrived at Colombo in Ceylon on 30 November to join the East Indies Fleet where she covered the aircraft carrier raids against Japanese oil installations and airfields in Sumatra and Malaya (Operation Meridian).
On 16 January 1945, she sailed as part of the British Pacific Fleet, seeing action off Okinawa and in the final bombardments of the Japanese mainland before withdrawing to repossess Hong Kong in September.
After the Japanese surrender, she remained in the Far East, and was transferred to the Royal New Zealand Navy on 25 May 1946. During 1947, the cruiser was docked for modernisation, but this was cancelled following a series of mutinies in April (which included the sailors from Black Prince), as the RNZN no longer had the manpower to operate her. Black Prince was placed in reserve. Work on reactivating the ship began in January 1952, to reduce crew the two multiple Pom Pom AA mounts were temporarily removed and eight of the unique RNZN 40 mm single electric Toadstool CIWS, installed, in place of Mk 5 twin Oerilikons and she was recommissioned in February 1953. In the same year she took part in the Fleet Review to celebrate the Coronation of Queen Elizabeth II.
The cruiser was decommissioned again in August 1955, and after the decision in the UK 1957 Defence Review to strike the remaining Royal Navy Dido and Improved Dido's as too outdated to be used again or modernized, Black Prince was reduced to extended 3rd class reserve, and used as an accommodation ship for refitting warships and spare part source for Royalist's 1960-1 refit, before reverting to Royal Navy control, for disposal, in line with its loan terms.
She was sold for scrap in March 1962 and towed from Auckland on 5 April to the Mitsui & Company, Osaka breakage yards, Japan, by the tug Benten Maru, arriving there on 2 May 1962.
Sailed in convoys: JW57 + RA57. Motto: "With High Courage". Badge date: 1943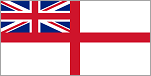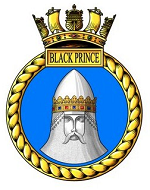 RCCNZ Member that served on this ship:
Chris King, Wellington; Norman Batterham, Auckland (deceased)

HMS Bluebell was a Flower-class corvette that served in the Royal Navy in World War II. Ordered from Fleming & Ferguson of Paisley, Scotland on 27 July 1939, she was launched on 24 April 1940 and commissioned in July 1940. She served in the Atlantic, Mediterranean and Arctic campaigns, escorting several convoys to Russia, and also took part in the invasions of Sicily and France. She was torpedoed and sunk by U-711 under the command of Hans-Günther Lange in the Kola Inlet on 17 February 1945 while escorting the convoy RA-64 from Murmansk. Only one member of her crew survived.
After commissioning and sea trials in July 1940, Bluebell was deployed on Atlantic convoy escort duties. Commanded by Lieutenant-Commander Robert Sherwood, one of her first duties, in October 1940, was to meet Convoy SC 7 mid-ocean. She rescued all 39 officers and men from the cargo steamship SS Scoresby, which had been torpedoed and sunk on 17 October. Sherwood subsequently appeared in the 1973 TV programme The World at War, in the episode Wolf Pack.
In January 1941 Bluebell was attached to the 5th Escort Group, Western Approaches Command, based at Liverpool, to escort Atlantic convoys, transferring in September to the 37th Escort Group for the defence of convoys between Gibraltar and ports in West Africa. She returned to the UK in July 1942 to refit, and was assigned for service on the Russian Convoys.





In September she sailed to Iceland to join the escort of Convoy PQ 18 to Arkhangelsk, returning in November, and resuming Atlantic convoy escort duties in December and January. In February 1943 she joined the escort of Convoy JW 53 from Loch Ewe to Kola Inlet, returning in March to resume duties in the Western Approaches.
In June 1943 Bluebell was sent to the Mediterranean, and in early July was part of the escort for assault convoys during the initial landings in the Allied invasion of Sicily, remaining in the Mediterranean for further convoy escort duties until August when she returned to the Western Approaches.
Between February and April 1944 she escorted Russian Convoys JW 57 and JW 58, and in May was transferred to Escort Group 143 to prepare for the invasion of Normandy. On 6 June she formed part of Convoy ECL1 escorting LSTs from the Bristol Channel to the landing beaches, then escorted follow-up convoys until released on 25 June. In August she was transferred to the 8th Escort Group and joined the escort force for Russian Convoy JW 59, returning in September.
After further convoy defence and interception duties, on 2 February 1945 she was attached to the escort for Russian Convoy JW 64. After arriving at Kola Inlet she took part in anti-submarine operations against U-boats known to be gathering to carry out attacks on the return convoy. On 17 February, as Convoy RA 64 was assembling off Murmansk, Bluebell was hit in the stern by an acoustic homing torpedo fired by U-711, which caused her depth charges to explode. She sank in less than 30 seconds at 69°24′N 33°42′E. From her crew of 86 ratings and officers there was only one survivor: Albert Holmes from Southampton.
HMS Bluebell sailed in convoys: PQ18 + QP15 + JW53 + JW57 + JW58 + JW59 + JW64 + RA57 + RA58 + RA59a + RA64. Motto: "Ring true". Badge date: 1921