The Arctic Convoy Club
of New Zealand

Veterans of the Arctic Convoys 1941 - 1945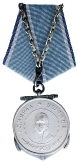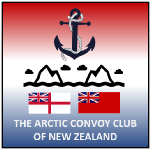 Obituary : Ian Dymock QSM
A FINAL FAREWELL
IAN DYMOCK, QSM
HONORARY LIFE MEMBER, RUSSIAN CONVOY CLUB OF NEW ZEALAND
A GOOD AND TRUE MAN
It was with a very tangible sense of sadness that I heard the news last week that Ian Dymock had passed away at Hutt Hospital on Tuesday 9 June 2015.
Ian was a very passionate advocate for the Merchant Navy and the mariners who sailed in its ships; in particular those who served in the Second World War. All of those who know him would have seen his passion and commitment brought fully to bear on achieving New Zealand recognition of Merchant Navy Day and the addition of the Day to the ceremonies to be held at the National War Memorial.
He was resolute about attending the regular meetings of the Russian Convoy Club. His participation in the meetings was a reminder to the 'Navy' Veterans that those arduous 'runs' in rough seas and in calm waters were shared by the Merchant Navy – and that the Sailors of both Navies became a 'band of brothers' drawn together by a common experience in the toughest of times.
It would be remiss in any reflection of Ian not to mention his Australian heritage. While not evident for much of the time, when ignited by a spark, those critical elements that define an 'Aussie character' were displayed for all to see.
There is a saying that a man's stature is defined not by his height but by his character. And all of those who know Ian well know that by this measure he was a very large man indeed. He will be missed.
Ian's ashes will be scattered on Port Philip Bay, Melbourne – and he will be as one with the sea forever.

Rear Admiral David Ledson (Ret)

This website is owned by The Arctic Convoy Club of New Zealand © 2004 - 2022 This page updated January 2017

We are sad to advise that Ron Hancock, one of our oldest club members, passed away on the 5th of October. Our deepest condolences go out to the family at this time.

Rest in Peace Ron.


OBITUARY

On 28 March 2014. Veteran of HMS Renown, Royal Navy. It is with sadness that we have advise that W.E. (Bill) Gallie, one of the Club's founder members, passed away peacefully on Friday 28 March 2014 . Bill, and his wife Anne, have been staunch supporters at our meetings for many years both in Levin and Lower Hutt as well as many functions associated with the Russian Embassy. An unassuming Gentleman, Bill will be sadly missed by all our members. Our heartfelt condolences go out to the family.


Obituary : W E (Bill) Gallie