The Arctic Convoy Club
of New Zealand

Veterans of the Arctic Convoys 1941 - 1945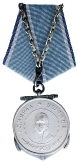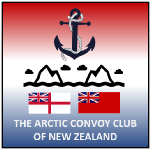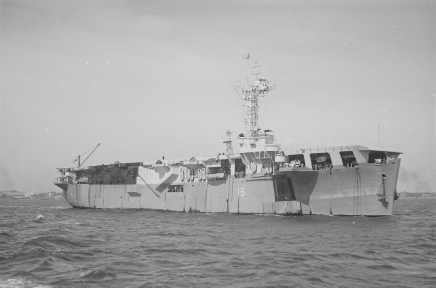 About 7,000 New Zealand officers and ratings served with the Royal Navy for varying periods during the Second World War. The peak was reached in September 1944 when the total strength of the Royal New Zealand Navy was 10,635 of whom 1,242 officers and 3,659 ratings (a total of 4,901) were serving overseas in ships and establishments of the Royal Navy.

New Zealanders saw active service in ships of every type from battleships and aircraft-carriers to submarines, motor-launches, and landing craft and in every sea from Spitzbergen in the Arctic to Cape Horn and from Iceland to the shores of Japan. They took part in every major naval engagement or operation and in countless minor actions, as well as in the ceaseless patrols and sea drudgery that make up so great a part of naval warfare. A majority of them were 'hostilities only' men from farm, factory, office or college, and all gave a good account of themselves.
Arctic Convoys : New Zealanders in the Royal Navy
After making temporary repairs, the Trinidad sailed from Murmansk on 13 May, escorted by two destroyers. Next day she was badly damaged and set on fire in an attack by thirty-five German bombers. Three hours later the cruiser had to be abandoned and was sunk by one of her destroyers. Eighty-one lives were lost, but the sixteen New Zealanders were saved.
On 30 April 1942 HMS Edinburgh, acting as close cover to a convoy escorted by six destroyers, four corvettes, and a trawler, was hit by two torpedoes from a U-boat about 180 miles north-east from the North Cape of Norway. Her stern was blown off, but she was able to steam at slow speed. Next day the convoy was attacked by three German destroyers, one ship being sunk. Five times the enemy was driven off by the escort destroyers, the senior officer of which in HMS Bulldog was a New Zealander, Commander Maxwell Richmond, OBE, RN,3 who was awarded the DSO and the USSR Order of the Red Banner for this action. Next morning the Germans turned their attention to the Edinburgh, which was being towed by a Russian tug. The tow was slipped and in the ensuing action the crippled cruiser was hit by four torpedoes and had to be abandoned and sunk.
Two New Zealanders who sailed with several convoys during 1942 were mentioned in despatches. Sub-Lieutenant J. A. Foster,5 who was serving in the corvette Honeysuckle, gained his award for his part in the defence of a convoy which for six days at the end of May was under attack by more than 240 aircraft and several U-boats, seven out of thirty-five ships being lost. The other was Leading Seaman Hudson6 in the destroyer Wheatland, one of the escorts in September of the biggest convoy sailed to Russia. It numbered thirty-nine ships, of which twenty-seven arrived at Archangel after prolonged attacks by German aircraft.


After disabling the Onslow, the Admiral Hipper concentrated on the Achates and quickly crippled her, killing her captain and some forty others. But, 'faithful as the fidus Achates of Virgil's epic', the little ship carried on laying smoke to screen the convoy until she sank about two hours later, eighty-one of her crew being rescued by the Northern Gem.
During the morning the covering cruisers Sheffield (flagship of Rear-Admiral R. L. Burnett) and Jamaica had been working down from the northward, tracking various ships by radar. At 11.30 they sighted and opened fire on the pocket battleship Lutzow which was hit several times before she turned away. Next they met two destroyers, one of which was sunk by the Sheffield. Meanwhile the Obedient, Obdurate, and Orwell were holding the Admiral Hipper and her silent destroyers off the convoy, which was briefly shelled by the Lutzow. During the next hour the Sheffield and Jamaica sighted first the Lutzow, then two destroyers, and finally the Admiral Hipper, all of which disappeared in the gloom after a brief exchange of fire.
Admiral Tovey, Commander-in-Chief Home Fleet, summed up this weird battle of the Barents Sea with the understatement 'that an enemy force of at least one pocket battleship, one heavy cruiser and six destroyers, with all the advantage of surprise and concentration, should be held off for four hours by five destroyers and driven from the area by two 6-inch cruisers without any loss to the convoy is most creditable and satisfactory.'
In his report Rear-Admiral Burnett said his action was fought largely with the use of radar, which enabled his cruisers to track the enemy ships, approach them undetected, and hit them almost immediately. It was this skilful use of radar that earned a DSC for Instructor Lieutenant Hogben, RNZN,8 who was serving in HMS Sheffield. Her commanding officer reported that Hogben 'displayed great coolness and the highest ability. His duty as officer-in-charge of the plotting office was, in the conditions of visibility, of vital importance, the success of the tactics employed by the force being greatly dependent upon the accuracy and precision of the plot. All this was provided by him in full measure.'


The outward and homeward convoys in December 1943 were covered by two forces of the Home Fleet — Duke of York (flag of Admiral Sir Bruce Fraser), Jamaica, and four destroyers, and the cruisers Belfast (flag of Rear-Admiral Burnett), Norfolk, and Sheffield. There were New Zealand officers and ratings in the ships named and in the destroyer Scorpion, as well as in several of those escorting the convoys. On 26 December the German battle-cruiser Scharnhorst, which had put to sea to attack the outward convoy, was intercepted and shadowed by the Belfast's radar, twice engaged by the cruisers, and finally brought to action and sunk by Admiral Fraser's force.
Many New Zealand officers of the Fleet Air Arm, as well as radar and telegraphist ratings, served in the escort aircraft-carriers which from 1942 onward sailed with Russian convoys. In March 1944 the aircraft of HMS Chaser sank three U-boats on three successive days. During the homeward passage of a convoy in April, aircraft of the Tracker sank two U-boats and five aircraft were shot down by fighters from the Activity. Lieutenant (A) Wallace,9 of the latter ship, to whose fighter direction this success was due, was awarded a mention in despatches. At the end of the month the Activity and Fencer sailed with another homeward convoy of forty five ships which was attacked for three days by a large group of U-boats; but only one ship was lost.
For their part in successful attacks in bad weather on numerous torpedo aircraft during the passage of convoys in February 1945, Lieutenant (A) Quigg15 of the Nairana and Sub-Lieutenant (A) Armitage16 of the Campania were awarded the DSC. Quigg's aircraft was badly damaged in one attack, but by good flying he reached the vicinity of his carrier before he force-landed in the sea; he was picked up by a destroyer. Signalman Cragg, RNZN,17 lost his life when the sloop Lapwing escorting a March convoy was torpedoed and sunk off the Kola Inlet.

The frigate Loch Shin of the 19th Escort Group sank two U-boats and badly damaged another in that locality on 29 April. Sub-Lieutenant Horspool, RNZNVR,18 was killed when HMS Goodall was torpedoed. Lieutenant Hazard, RNZNVR,19 of HMS Loch Shin, was awarded a mention in despatches for good service as group navigator.

From August 1944 until May 1945, when the war with Germany ended, 260 merchant ships sailed in outward convoys to Russia with the loss of only two ships, and 245 sailed homeward, of which seven were lost.
From first to last some hundreds of New Zealand officers and ratings saw service in the Battle of the Atlantic in destroyers, corvettes, and other vessels escorting convoys across the Atlantic and to and from North Russia, Gibraltar, Sierra Leone, and the Mediterranean. They took part in many convoy battles with packs of U-boats in the grim months of 1941–42 and in the successful counter-offensive that destroyed nearly 500 U-boats in the next two years.



Many New Zealanders saw service with Arctic Ocean convoys to North Russia.
The passage of a Russian convoy was one of the most hazardous and arduous operations of the war at sea. The ships were exposed to attack by U-boats throughout the run and for 1400 miles were within range of German aircraft, with the added risk of forays by the Tirpitz, Scharnhorst, and other heavy ships.

From 1942 onward the convoys were run mainly during the winter months, when the long hours of darkness reduced the risk of air attack. The task of shepherding a convoy of slow, heavily laden ships through bitter Arctic gales and snowstorms was a grim ordeal. Weather damage was often severe. Several escort aircraft-carriers buckled the fore-end of their flight deck 60 feet above the waterline and one recorded a heavy sea which rolled the whole length of the deck.
From August 1941 to May 1945 more than forty convoys totalling 792 ships were sailed outward and 739 returned; some sailed independently. Sixty-two ships were sunk on outward passages and twenty-eight on the return journey, with a loss of 829 lives. The Royal Navy lost two cruisers and seventeen other ships with 1,840 officers and men. At this great price some four million tons of supplies valued at GBP428,000,000 were delivered to Russia.
Of all the New Zealanders who sailed with Russian convoys in ships of the Home Fleet, probably none had a ruder initiation than two drafts of 'B Scheme' candidates for commissions who were serving their preliminary sea-time in the cruisers Trinidad and Edinburgh. There were seventeen of them in the Trinidad when she sailed from Loch Ewe on 20 March 1942 with two destroyers as escort to a convoy of nineteen ships, two of which were sunk by German bombers on the 28th. Another was sunk next morning when three enemy destroyers raided the convoy in thick weather. In a series of brief skirmishes one destroyer was sunk and the others damaged. The Trinidad was hit by a torpedo but, assisted by her destroyers, arrived at Murmansk in the afternoon. Her casualties included one New Zealander, Ordinary Seaman Dick,2 who was killed. Fourteen ships of the convoy arrived safely, two more having been sunk by U-boats.
Two officers and fifty-six ratings were lost, the New Zealanders being among those saved. One German destroyer was sunk, the others escaping in a damaged condition. In the Home Fleet force which was covering the convoy, the destroyer Punjabi was sunk in collision with the flagship King George V in a dense fog off Iceland on 1 May. Most of the destroyer's company was saved, but one New Zealander, Lieutenant Piggin,4 was lost.
"Although Lieutenant King, a young Reserve Officer, had been first lieutenant in the leader for one month only, he exercised complete control when the ship was seriously damaged by three 8-in. shells. A fire raged as a result of two hits forward; the forward fire and repair party had been wiped out; the ship had to remain at action stations and had suffered a 20 per cent loss in personnel through casualties. Despite these severe handicaps, by personal demonstration he showed his untrained assistants exactly what he required and the serious fires were under control in remarkably short time. Nearly the whole forepart of the ship was on fire at one time or another; nevertheless, after four hours he was able to report to the bridge that all fires were extinguished and a collision mat in place over the hole in the ship's side. He continued unceasingly to attend to the safety of the ship and the welfare of the ship's company. Her safe arrival in harbour 24 hours later is testimony to his sound judgment and untiring efforts. In courage and leadership he set a fine example to his men and that their morale remained as high as ever is a tribute to their first lieutenant".
The Fencer's Swordfish sank three U-boats in two days. Sub-Lieutenants (A) Gilbert10 and Temm11 of the Activity were mentioned in despatches for their part in attacks on U-boats. Swordfish of 825 Squadron in the Vindex sank U-354 in August and assisted in sinking U-394 ten days later.
In the New Year honours list 1945, Lieutenant O'Connor12 was awarded the DSC for 'good service and outstanding devotion to duty' in HMS Whitehall, in which he had sailed with five Russian convoys. Lieutenant (A) Burgham13 of HMS Nairana was awarded the DSC and Lieutenant (A) O'Shea14 of the Campania a mention in despatches for good service with convoys in December 1944. Burgham took off from the snow-covered deck in failing twilight to intercept an unknown number of enemy aircraft, but was unable to find them and landed on the wildly heaving deck in total darkness. O'Shea showed 'outstanding skill' in his control of deck landings in difficult conditions. Swordfish of the Campania's 813 Squadron, which had destroyed U-921 in September, sank U-365 on the December voyage.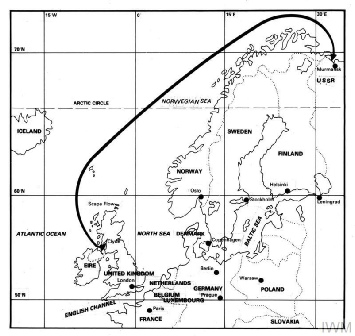 Source : British Pathe News / YouTube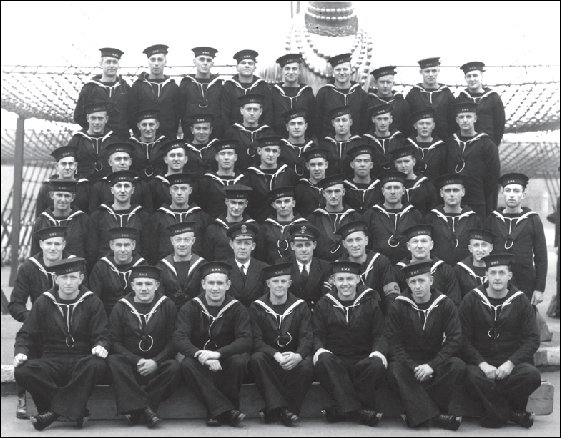 This photo is of New Zealanders of the shore-based No 2 Mess, Blake Division, HMS Ganges, Shotley, Suffolk in 1941. The naval facility was for "hostilities only training" during the Second World War.
Bill Carson (see his story here) is far right, back row, aged 21. He wrote names and some places of origin on the back of the photo, but it's not clear in which order they should be.
They were: K Todd, B Wallace (Auckland), P Hawker, L C Batchelor (Otago), J Childs, D Davies, D S Buston (Wellington), J A Hay, S Smith (Wellington), A C Dick (Auckland) (who died when the Trinidad torpedoed herself in March 1942), A S Anderson (Otago), H F Cockman (Canterbury), A Squire (Taranaki), A S Anderson (Otago), P Taylor, P Heal (Wellington), D C Culpan (Auckland), T Larson, D C Campbell (Otago), R C Hanson (Auckland), Petty Officer Hutton, M Hall, (Wellington), Jack Livingstone (Wellington), H Moss (Taranaki), J V Bond (Otago), C Wyeth, J Logan (Hawkes Bay), J Allen (Auckland), Chief Petty Officer Edwards, A Pritchard, P Reid, K K Supanovic, C Redman, D H Broad, H Camforth, P S Williams (Auckland) D H Scott, M A Ballengate (Canterbury), H Mace (Auckland), P Watson (Wellington), D Shepherd, L R Philpott (Auckland), R A Witford-Burgess, E Larson (Canterbury), K Todd, J Fraser (Otago), J Mitchell (Auckland), F Reid, E Luke.
Photo: Courtesy of Ian Carson
Hudson was in charge of a multiple pom-pom which shot down two bombers. His commanding officer reported that though Hudson was 'officially on the sick list with a sprained ankle, he insisted on manning his gun whenever attack was due and was an inspiration to his gun's crew.'
The successful defence against heavy odds of convoy JW 51B in the darkness and snowstorms of Arctic winter is one of the brightest pages in the proud record of Russian convoys. Fourteen merchant ships escorted by the destroyers Onslow, Captain R. St. V. Sherbrooke7 (Captain D, 17th Flotilla), Obedient, Obdurate, Orwell, Oribi, and Achates, corvettes Rhododendron and Hyderabad, minesweeper Bramble, and trawlers Vizalma and Northern Gem, sailed from Loch Ewe on 22 December 1942. There were New Zealanders, some of them veterans of the Arctic passage, in several of the escorts and the covering ships.
At 8.30 a.m. on 31 December, when the convoy was about 220 miles north-west from Kola Inlet, three German destroyers were sighted and an hour later the heavy cruiser Admiral Hipper appeared out of the gloom. Captain Sherbrooke detailed part of his escort force to screen the convoy with smoke and moved out with the Onslow and Orwell to engage the Germans. The enemy destroyers took no active part in the proceedings. The Admiral Hipper, cautious of torpedo attack, kept her distance but was hit several times. At 10:20 she opened up on the Onslow, which was hit three times in rapid succession and badly damaged. Captain Sherbrooke was severely wounded and lost the sight of his left eye, but continued to fight his ships until another hit compelled the Onslow, badly on fire, to withdraw to the head of the convoy.
The fires in the Onslow were successfully fought by parties organised and led by Lieutenant Lewis King, RNZNVR, who was awarded the DSC for his courage and leadership. Of his work Captain Sherbrooke wrote as follows:
Those who have been mentioned in this narrative were in no way different from the thousands of other New Zealanders who served at sea. Obviously it was not possible to mention all who served in the Royal Navy, and there seemed to be no other way to give some account of their service in all kinds of ships in many seas. Most of the work of the Navy is done by ships and men that are never in the news. Of New Zealanders who fought at sea, including those in the Royal New Zealand Navy, it can be said: 'Their memory is linked for ever with the Royal Navy whose child they were, of whose traditions they were so proud and whose long annals, rich with romantic and splendid feats of arms, contains no brighter page than theirs'.

Source: New Zealand Electronic Text Collection, Victoria University of Wellington
1 Able Seaman C. S. Hood, RNZNVR; born Auckland, 26 Feb 1917; bootmaker; died while prisoner of war 26 Jun 1944.
2 Ordinary Seaman A. C. Dick, RNZN; born Bellaught, Northern Ireland, 31 Mar 1917; oil company employee; killed in action 29 Mar 1942.
3 Rear-Admiral M. Richmond, DSO, OBE, Croix de Guerre, Order of the Red Banner; born Wellington, 19 Oct 1890; entered RN, 1918;
CO HMS Basilisk, evacuation of Dunkirk, 1940; Captain, 1942; Rear-Admiral, 1954.
4 Lieutenant S. F. Piggin, RNZNVR; born Auckland, 28 Mar 1917; clerk; killed on active service 1 May 1942.
5 Lieutenant J. A. Foster, RNZNVR, m.i.d.; born Wellington, 19 Oct 1919; telegraphist.
6 Petty Officer H. F. C. Hudson, RNZNVR, m.i.d.; born Auckland, 17 Jul 1918; tinsmith.
7 Captain Sherbrooke was awarded the Victoria Cross for his valorous defence of the convoy
8 Lieutenant-Commander G. L. Hogben, DSC, RN, US Bronze Star; born Auckland, 14 Apr 1916; Rhodes Scholar.
As an Admiralty meteorologist, he was one of the team which worked out the weather forecasts for the invasion of Normandy in June 1944.
9 Lieutenant (A) D. R. Wallace, RNZNVR, m.i.d.; born Tasmania, 30 Mar 1919; salesman.
10 Sub-Lieutenant (A) J. McE. Gilbert, RNZNVR, m.i.d.; born Wellington, 21 Oct 1920 clerk.
11 Sub-Lieutenant (A) P. E. Temm, RNZNVR, m.i.d.; born Taupiri, 16 Jun 1920; clerk.
12 Lieutenant R. M. J. O'Connor, DSC, RNZNVR; born Timaru, 14 Sep 1914; clerk.
13 Lieutenant (A) A. R. Burgham, DSC, RNZNVR, m.i d.; born Onehunga, 30 Oct 1920; draughtsman.
14 Lieutenant (A) J. W. R. O'Shea, RNZNVR, m.i.d.; born Wellington, 11 Oct 1920; public servant.
15 Lieutenant (A) J. A. Quigg, DSC, RNZNVR; born Oamaru, 14 Dec 1918; clerk.
16 Sub-Lieutenant (A) O. K. Armitage, DSC, RNZNVR; born Kawhia, 20 Jun 1920; clerk.
17 Signalman W. C. Cragg, RNZN; born Blenheim, 6 Jan 1925; clerk; killed on active service 20 Mar 1945.
18 Sub-Lieutenant G. N. Horspool, RNZNVR; born Auckland, 9 May 1924; clerk; killed on active service 29 Apr 1945.
19 Lieutenant D. L. Hazard, RNZNVR, m.i.d.; born Hamilton, 16 Jan 1920; civil servant
This website is owned by The Arctic Convoy Club of New Zealand © 2004 - 2022 This page updated May 2022